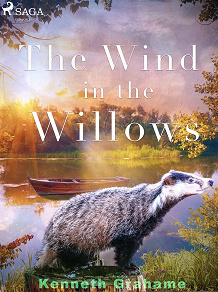 The Wind in the Willows
"There's nothing––absolutely nothing––half so much worth doing as messing about in boats."

Mole is a good-natured, home-loving mole, who has never gone anywhere. But one Spring he gets so sick of cleaning his home that he abandons everything and ventures out into the world. He soon meets a friendly rat, who shows him the Thames and introduces him to variety of whimsical characters.

Like some of the best children's classics – 'Alice in Wonderland', 'Winnie the Pooh' and 'Peter Pan' – 'The Wind in the Willows' (1908) started as adult simply inventing stories to tell a child. In 1949 it inspired the Disney movie, 'The Adventures of Ichabod and Mr. Toad'.

Kenneth Grahame (1859-1932) was a Scottish author of children's fiction. In his twenties he wrote stories for periodicals, but he later became famous for the classic children's novel, 'The Wind of the Willows', the characters in which he based on his son and good friends. When he died, his cousin, author Anthony Hope, wrote for his headstone that he "... passed the river on the 6th of July, 1932, leaving childhood and literature through him the more blest for all time."
---