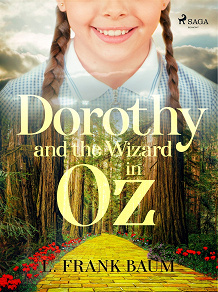 Dorothy and the Wizard in Oz
"There is no doubt they intend to kill us as dead as possible in a short time,' said the Wizard.
'As dead as poss'ble would be pretty dead, wouldn't it?' asked Dorothy." During an earthquake in California Dorothy and her friends are swallowed up by cracks in the earth and find themselves in a whole new land – the Land of Mangaboos. The Mangaboos are a vegetable people, and they accuse Dorothy and her friends of causing the earthquake and sentence them to death. The 1939 movie, 'The Wizard of Oz' starring Judy Garland, perfectly told the story of a little girl's first adventure, but the story of Oz and Dorothy far from ended then. With his trademark inventions on display, author L. Frank Baum delivers another imaginative and delightful book in the Oz series, though many will agree that this fourth one is darker and more troubling than its predecessors.


L. Frank Baum (1956-1919) was an American author, actor, and filmmaker best known for his children's books, particularly 'The Wonderful Wizard of Oz' (1900) and its thirteen sequels. He started writing young and created a journal with his brother, which they handed out for free.
---