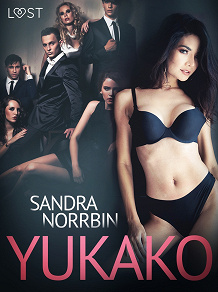 Yukako - Erotic Short Story
Delirium is a place for sex and BDSM, a haven for anyone who, much like Yukako, finds themselves in a sexual borderland. At Delirium, lust is welcome and embraced. Anyone who might have been called different, extreme or simply deviant, has now got a place of their own. Where they fit in.
Delirium is also the place where Yukako discovered that pain and pleasure can be interwoven and not always easy to separate. She relished being tied up. She knew what kind of liberation it meant to give herself entirely to someone else. Now she found herself back at Delirium, but tonight the whip lashes wouldn't hit her body... tonight it was her turn to dominate and lead.

Yukako is the third, stand-alone part of the series about the Delirium Sex Club, which starts with the two short stories called 'The Medical Interns' and 'Delirium'.

In her writing, Sandra Norrbin allows female sexuality to take centre stage, regardless of society's norms and expectations.Through her wide network of contacts in the BDSM and swingers communities, ideas for new erotic stories are never missing.
---