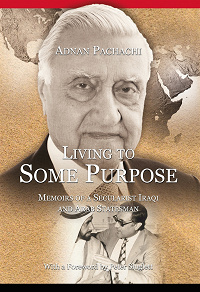 Living to Some Purpose
Often described as Iraq's elder statesman, Dr Adnan Pachachi has enjoyed one of the longest and most distinguished political careers of modern times, both domestically and on the world stage.

In a life spanning nine decades, he has served his country as Ambassador to the United Nations and as Foreign Minister, and has worked tirelessly to establish a secular and anti-sectarian political culture in Iraq. At the UN, where he was an eloquent advocate of the Palestinian cause, he was much admired for his mastery of procedure and his formidable debating skills.

In 1969, a few months after the Ba'athist government took power in Baghdad, he resigned from the Iraqi foreign service while at the United Nations in New York. He would not see his country again for thirty-four years. At the invitation of Sheikh Zayed, he took up residence in Abu Dhabi where, until 1993, he played a central role in establishing the United Arab Emirates as a newly independent state.

In 1991 he re-engaged with Iraqi politics when he became involved with the expatriate opposition. In 2003, at the age of eighty, he made the courageous decision to return to Iraq in the aftermath of the US invasion and the fall of Saddam Hussein. He became a member of the Governing Council, its President in January 2004, a member of the Interim National Council in 2004–05, and a member of the Iraqi Parliament from 2006 to 2010.

In this honest and affecting memoir, in which he combines the political with the personal, Dr Pachachi charts the course of his lifelong dedication to democratic, pluralist, tolerant and civilized values.
---