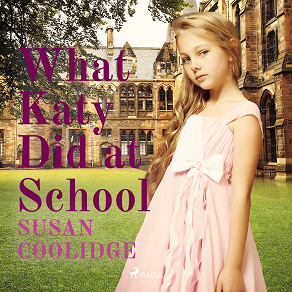 Isbn:
978-87-2647-311-7
Publisher:
Saga Egmont
Category:
Children's books
9-12 years
Accessible since:
October 2021
Narrator:
Karen Savage
Length: 4 hours 17 minutes
---
What Katy Did at School
Tall, gangly, and tomboyish Katy was badly injured in an accident which has left her partially paralysed. This has been tough on the wild girl, who is no longer able to play with her siblings or roam around nature the way she used to. But Katy has now regained some feelings in her legs, and can finally start to slowly walk again. Her father feels she is healthy enough to start school, so he sends her off to be educated. It is with mixed emotions that Katy goes. Starting school will be exciting, but won't she miss her siblings too much to learn anything?

This is the second book in the Katy series, which has been elected one of the best children's books by its readers. The series takes place in 1860's Ohio.

Susan Coolidge (1835-1905) was an American children's' book author, best known for her novel 'What Katy Did' (1872), which was inspired by her own childhood. She started writing after working as a nurse during the American Civil War.
Listen to sample
---