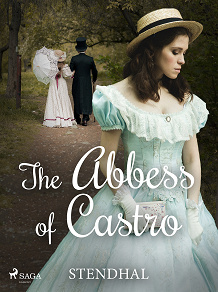 The Abbess of Castro
'The Abbess of Castro' is a novella by Stendhal which recounts the untimely tragic romance between the daughter of the wealthiest man in Lazio and a penniless gangster. It may be a tale of star-crossed lovers set in Italy, but this novella is so much more than an alternative Romeo and Juliet. Beneath the surface lies an eye-opening tale of political machinations that Machiavelli would be proud of, violent family feuds and swashbuckling adventures.

Claimed to be translated from 16th Century manuscripts, 'The Abbess of Castro' packs an extra punch with its extremely unsympathetic view on warfare and an acute critique on ardent individuals undone by passion.

Stendhal is widely regarded to be an eminent example of Romantic Realism throughout his work and directly influenced the world-famous Russian author Leo Tolstoy in his depictions of war, especially in Tolstoy's works 'Sevastopol Sketchers', 'The Invaders', 'The Cossacks' and 'Youth and Childhood'.

Stendhal (1783-1842), the pseudonym of Marie-Henry Beyle, was a French writer. A pioneer of literary realism and master of the psychological portrayals of his characters, he is best known for his novels 'The Red and the Black' (1830) and 'The Charterhouse of Parma' (1839).
---