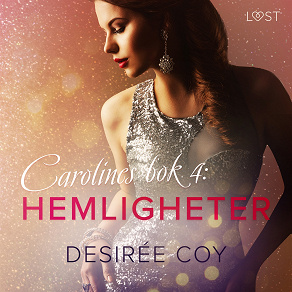 Hemligheter - Carolines bok 4
Advokat Caroline Stierna är tillbaka från sin verklighetsflykt i Karibien tillsammans med miljonären och entreprenören Alastair Smalls. Under jul- och nyår hittar hon tillbaka till maken Jesper och det trygga vardagslivet. Han kan fortfarande få henne att darra i månskenet.
Men kanske är hennes liv med Jesper inte så tryggt som hon tror. Efter en fruktansvärd händelse ifrågasätter hon allt på nytt, och det dröjer inte länge förrän tankarna vandrar tillbaka till det enkla lyxlivet med Alastair ...

Desirée Coy är en pseudonym för en etablerad författarinna från Västsverige. Desirée skriver lustfylld läsning för kvinnan mitt i livet. Berättelser om vänskap, längtan, nyväckt lust, osäkerhet, förbjuden åtrå och lyckliga slut.

Delen om Caroline i serien Bokklubben Basic Instinct innehåller en mörkare spin på klassisk chick-lit och skildrar en mogen kvinnas krokiga väg genom äktenskap, hemligheter och att försöka hitta sig själv. Serien tillhör genren erotisk romance och kan bäst beskrivas som en modern Sex and the City.
Listen to sample
---