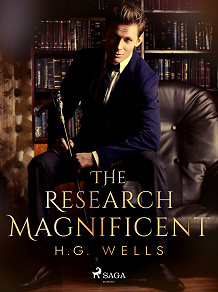 The Research Magnificent
'What does all this struggle here amount to?' William Benham sets out on a globe-trotting adventure to find the answer in H.G. Wells' 'The Research Magnificent'. Overzealous and unprepared, the young aristocrat embarks on a journey to live an honourable life. What ensues is a picaresque tale of one man's pilgrimage around the globe in which his philanthropy puts him in many preposterous and perilous situations. This tragi-comic odyssey features some of Wells' most vivid and picturesque writing as he describes the beauty of the world from Slovenia to South Africa. 'The Research Magnificent' is one of Wells' funniest stories but its striking cross-examination of the beauty of travel and the cost of colonialism ensures that it remains relevant to this day. This book's blend of humour and poignancy makes it the perfect read for fans of authors such as John Kennedy Toole and Kurt Vonnegut.

H. G. Wells (1866-1946) was a celebrated English writer, remembered mostly for his science fiction works. Often described as a futurist, H. G. Wells' influence cannot be overstated for his works foresaw many technological innovations such as space travel, the atomic bomb, and the Internet. A four-time Nobel Prize in Literature nominee, Wells explored a wide array of themes in his works, from religion to social criticism and beyond. Some of his best works include the time-travel novel 'The Time Machine', the sci-fi adventure novel 'The Island of Dr. Moreau', and the mankind-versus-aliens novel 'The War of the Worlds'. Wells occupies one of the central seats in the canon of science-fiction literature and his writing inspired other celebrated authors such as Ray Bradbury and Philip K. Dick. Wells' stories are still widely read to this day and have had numerous cinematic adaptations including 'The Invisible Man' starring Elisabeth Moss.
---