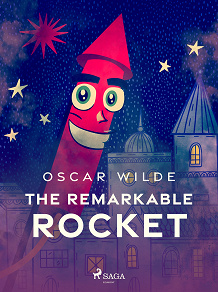 The Remarkable Rocket
'The Remarkable Rocket' is a morality tale, cloaked in fairy-tale magic. It focuses on a firework, who is too full of himself for his own good. His bravado and boasts are put to the test, as the wedding ceremony he's due to perform at draws nearer. Even the presence of another, possibly more arrogant, character doesn't seem to make a dent in his vanity. 'The Remarkable Rocket' is beautifully-written tale, leaving the reader in no doubt as to the message the author is putting across. Perfect for children and the young at heart.

Oscar Wilde (1854 – 1900) was an Irish novelist, poet, playwright, and wit. He was an advocate of the Aesthetic movement, which extolled the virtues of art for the sake of art. During his career, Wilde wrote nine plays, including 'The Importance of Being Earnest,' 'Lady Windermere's Fan,' and 'A Woman of No Importance,' many of which are still performed today. His only novel, 'The Picture of Dorian Gray' was adapted for the silver screen, in the film, 'Dorian Gray,' starring Ben Barnes and Colin Firth. In addition, Wilde wrote 43 poems, and seven essays. His life was the subject of a film, starring Stephen Fry.
---