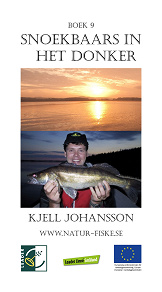 Snoekbaars in het donker
Het boek is deel 9 (van 15) in de serie Natur-fiske.
Ik heb het hele jaar door onderzoek gedaan en gevist om de voertijden en voedingsgewoonten van de snoekbaars te achterhalen. Ik heb ook de klok rond gevist, iets waar dit boek op ingaat. Vanaf het midden van de 20e eeuw werd er 's nachts roeiend of trollend op snoekbaars gevist, meestal met rode en witte HI-LO-wobblers als aas. Het algemene idee was dat snoekbaars alleen 's nachts jaagde. Om erachter te komen of snoekbaars zich in deze tijden nog voedt, heb ik mezelf "gedwongen" om zowel in mijn boot als op het ijs in het donker te vissen.
Tegenwoordig, met steeds effectievere methoden en aas, weten we dat het mogelijk is om snoekbaars zelfs overdag te laten bijten en is de interesse in nachtvissen afgenomen. Mijn viservaring suggereert dat als je bij weinig licht en 's nachts vist in plaats van alleen overdag, je meer snoekbaars zou vangen.
Lees dit boek en neem deel aan mijn inspanningen. Als je gekke ideeën krijgt, kun je in de problemen komen en dat was bij mij het geval, zoals je in dit boek zult lezen.
EPUB3: Fixed format
Read sample
(Download)
---