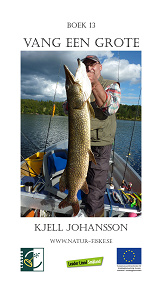 Vang een grote
Het boek is deel 13 (van 15) in de serie Natur-fiske.
Het doel voor veel vissers is om enorme vissen aan de haak te krijgen. Dit boek geeft veel advies over hoe deze droom werkelijkheid kan worden. Ik beweer dat kennis de oplossing is, iets dat sommigen die elke visdag naar een persoonlijk record streven misschien zijn vergeten. Het is erg belangrijk om te leren van vissen, om te luisteren naar het advies van anderen en om kennis op te doen over de soorten waarop je vist, om te leren over de wateren waar je vist, om de methoden en het aas te gebruiken die geschikt zijn voor grote vissen.
Eten grote snoeken tegelijk met de kleinere? Het antwoord wordt gegeven in dit boek en ik onderzoek ook of het idee "groot aas geeft grote vissen" waar is. Experts geven aasadvies voor grote vissen en ik onderzoek of er "geluk" nodig is om de recordvis te vangen.
EPUB3: Fixed format
Read sample
(Download)
---