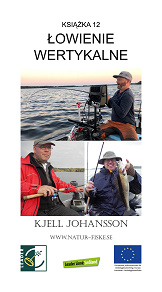 Lowienie wertykalne
Ksiazka jest czescia 12 (z 15) w serii Natur-fiske.
W mojej (drukowanej) ksiazce "Ekscytujace metody na szczupaki, sandacze i okonie" wielka nowoscia
byl szczególowy rozdzial o lowieniu w pionie, metodzie, która uderzyla jak bomba w wedkarstwie sportowym w Szwecji w 2007 roku. Wielu wedkarzy którzy do tego czasu trollingowali lub spinningowali przeszli na lowienie wertykalne . Nastapil sandaczowy szal, który znaczaco zmienil wedkarstwo. Bylem zaangazowany od samego poczatku i w tej ksiazce opisano rózne warianty lowienia wertykalnego, które pojawily sie po jego rozpowszechnieniu w Szwecji.

Nazywam podstawowa metode "tradycyjna" i opisuje moje dni wedkowania z gosciem, który ja rozpropagowal, Jörgenem Larssonem i dwoma przewodnikami wedkarskimi w Holandii.
Fireball, czyli lowienie w pionie na naturalna przynete, to druga opisana metoda. Metoda, która wprowadzilem w ksiazce "Ekscytujace..." i która nadal stosuje, wedkarstwo dryftowe, jest dokladnie opisana, podobnie jak opis, jak mozna lowic w pionie za pomoca prostszego sprzetu,
"Wedkowanie wertykalne dla kazdego".
Oczywiscie uwzgledniono równiez metode, która wyparla tradycyjna metode i stala sie bardzo popularna. Nazywa sie to pelagicznym polowem wertykalnym, którego celem sa wieksze ryby drapiezne, glównie sandacze. Wiele duzych ryb zostalo sprowokowanych do ataku na przynete dzieki tej spektakularnej metodzie, która opiera sie na podstawowym narzedziu, echosondzie.
EPUB3: Fixed format
Read sample
(Download)
---