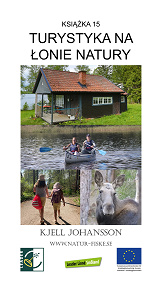 Turystyka na lonie natury
Ksiazka jest czescia 15 (z 15) w serii Natur-fiske.
Ksiazka jest przewodnikiem, jak najlepiej wyjsc na lono natury i co mozna tam robic samemu, w grupie lub z rodzina. Wedkarstwo to tylko jedna z takich aktywnosci, a ta ksiazka zawiera porady, jak wykonywac wiele innych ekscytujacych zajec.

W szwedzkiej przyrodzie jest duzo miejsca dla kazdego, poniewaz prawo dostepu publicznego zapewnia wspaniale mozliwosci przebywania i poruszania sie w praktycznie nietknietej dziczy.
Podpowiadam, jak wybrac odpowiedni "poziom dziczy", od przejazdzki rowerem i powrotu do domu po tygodniowa wedrówke po bezdrozach z noclegami w szalasach lub namiotach.
Przedstawiono przykladowe opcje zakwaterowania. Ponadto omawiane sa zwierzeta, które mozna zobaczyc i sfotografowac, a takze udzielane sa porady, jak spedzic spokojne wakacje.
Zrównowazony rozwój jest niezwykle wazny i podano przyklady, jak to osiagnac, przebywajac na lonie natury.

Przeczytaj ksiazke, wybierz swój "poziom dzikiej przyrody" i odkrywaj wspaniale szwedzkie lasy i jeziora.
EPUB3: Fixed format
Read sample
(Download)
---